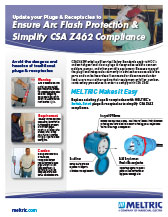 This Standard specifies requirements for and provides guidance on safety management systems, safe work procedures and selection of personal protective equipment and other safety devices for persons exposed to hazards associated with energized electrical equipment. In addition, this Standard sets out critieria for the identification and training of qualified electrical workers and for determination of hazardous work to be performed only by those qualified individuals.
The key elements of the CSA Z462 standard are summarized below. Complete details should be obtained from the standard itself.
General Requirements for Electrical Safety-Related Work Practices
Training Requirements
Employees who may be exposed to electrical hazards must be specifically trained to understand the
hazards associated with electrical energy as well as the safety-related work practices and procedures required to provide protection from them. The level of training provided determines the tasks that an employee is qualified to perform.
Only specially 'Qualified Persons' may perform work on or near exposed and energized electrical conductors or circuit parts. The training requirements include:
How to recognize the potential hazards that exist
How to distinguish energized from non-energized parts
How to determine the voltage of exposed energized electrical conductors
The relationship between the hazard and potential injury
How to avoid exposure to the hazards
How to select appropriate personal protective equipment
Specific work practices and procedures to be followed
Emergency procedures for assisting victims of electrical incidents
How to perform a hazard/risk analysis
How to determine approach and flash protection boundaries
Electrical Safety Program
Employers are required to implement and document an electrical safety program to direct employee activities in a manner that is appropriate for the different voltage, energy level and circuit conditions that may be encountered. This safety program shall include all electrical safety procedures, be documented in writing, and be made available to all employees. If work on or near energized electrical conductors and circuit parts operating at 50V or more is required, the safety program must:
Include a procedure that defines requirements and provides guidance for workers as they perform
work on or near live parts
Identify the hazard/risk evaluation procedure to be used before work is started within the limited approach boundary of energized electrical conductors and circuit parts operating at 50 volts or more.
Include a job briefing process to inform employees of the hazards, proper procedures, special precautions, energy source controls and PPE requirements
Working While Exposed to Electrical Hazards
Safety work practices consistent with the nature and extent of the associated electrical hazards shall be used to safeguard employees from injury while working on or near exposed electrical or circuit parts that are or can become energized. Two primary conditions are identified and addressed:
Energized Electrical Conductors and Circuit Parts – Safe Work Condition. Live parts to
which an employee might be exposed shall be put into an electrically safe work condition before employees can work on or near them, unless work on energized components can be justified.
Energized Electrical Conductors and Circuit Parts – Unsafe Work Condition. Only qualified persons may work on electrical conductors or circuit parts that have not been put into an electrically safe work condition.
Establishing an Electrically Safe Work Condition
The most effective way to prevent an electrical injury is to completely remove the source of electrical
energy and eliminate the possibility of its reappearance. To do so, workers must identify and disconnect
all possible sources of electricity.
Process of Achieving an Electrically Safe Work Condition
Identify all possible sources of electric supply.
Care should be taken to identify the possible presence of secondary sources.
Properly interrupt the load current(s) and open the disconnecting device(s).
Not all disconnecting devices are rated to interrupt load currents; this should only be done with a properly rated device.
Verify deenergization through visual inspection of the disconnect contacts.
Disconnecting means may sometimes fail to open all phase conductors when the handle is operated,
so it is necessary to verify physical contact separation. If this requires removing the disconnect
door or cover, appropriate PPE must be used.
Apply lockout/tagout devices.
This should be done in accordance with a formally established company policy.
Use a voltage detector to test each conductor to which the worker may be exposed in
order to verify deenergization.
The voltage detecting device must be functionally tested both before and after taking the measurements in order to ensure that it is working satisfactorily.
Circuit parts with induced voltages or stored electrical energy must be grounded.
If the conductors being deenergized could contact other energized conductors or circuit parts, grounding devices rated for the available fault duty should be applied.
Justification
Deciding to work on or near energized electrical conductors and circuit parts should be a last resort in
the workplace, after all other opportunities for establishing an electrically safe work condition have been exhausted. Work on energized parts at 50V or more should only be performed if the employer can demonstrate that deenergizing will introduce additional hazards or is not feasible due to equipment
design or operational limitations.
When non-routine work must be performed on energized parts, a detailed work permit must be
prepared before the work can start. The work permit must document the following elements and be approved by a responsible manager or safety officer:
A description of the circuit and equipment to be worked on
Justification for performing the work in an energized condition
A description of the safe work practices to be employed
Results of the shock hazard analysis
Determination of shock protection boundaries
Results of the flash hazard analysis
The flash protection boundary
The personnel protective equipment required for worker safety
Restricted access of unqualified persons from the work area
Evidence that the job briefing has been completed
Approach Boundaries to Energized Electrical Conductors or Circuit Parts
Limited, restricted and prohibited approach boundaries must be determined in order to identify safe approach distances and the precautions required to minimize the possibility of shock.
Arc Flash Hazard Analysis
An arc flash hazard analysis shall be done in order to protect personnel from the possibility of being
injured by an arc flash. As part of this analysis, flash protection boundaries must be determined based
on available bolted fault currents and the incident energy exposure level for personnel working within
this boundary must be calculated.
Personal and Other Protective Equipment
Employees working in areas where electrical hazards are present shall be provided with, and shall use, protective equipment that is designed and constructed for the specific part of the body to be protected
and for the work to be performed.
Requirements for eye, hand, head and body protection and/or v-rated tools are determined based on the hazard/risk category for the work to be performed. The standard provides a reference table indicating the hazard/risk category for many of the electrical tasks performed in industry and also provides a chart showing the protective equipment that is required for each hazard/risk category.
The tables below show the hazard/risk categories for several common tasks and describe the protective equipment required for each of the categories.
***WARNING***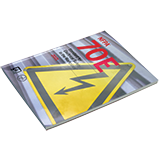 Most pin & sleeve and twist type devices are not intended to be connected or disconnected under load. Doing so may expose users to live contacts and arc flash hazards that can result in serious injuries.
CSA Z462: WORKPLACE ELECTRICAL SAFETY STANDARD
Selection of Personal Protective Equipment
First, Identify the Risk Category in NFPA 70E or CSA Z462
Hazard/Risk Category Classifications by Task (abridged table)
| Panelboards or Switchboards Rated >240V and up to 600V | Hazard/Risk Category |
| --- | --- |
| CB or fused switch operation with covers on | 0 |
| CB or fused switch operation with covers off | 1 |
| Work on energized parts, including voltage testing |   2* |
| Opening hinged covers (to expose bare, energized parts) | 1 |
| Removal of bolted covers (to expose bare, energized parts) |   2* |
Then, Choose the Appropriate PPE for that Hazard/Risk Category
Hazard/Risk Category
Typical Protective Clothing Systems

0

Long sleeve shirt and pants plus safety glasses, hearing protection and gloves

1

Arc-rated (level 4) long sleeve shirt, pants, coverall, face shield, jacket, leather gloves
and work shoes

2

Arc-rated (level 8) long sleeve shirt, pants, coverall, face shield, jacket, leather gloves
and work shoes